Vari-Gone

Reviews
Rated:
3

out of

5


by

VaricoseVeinsGone.com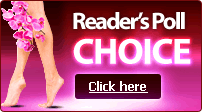 Developed by Nature's Sunshine Products, Vari-Gone is a natural treatment for varicose veins that combines six nutrients and herbs to encourage the optimal health of veins. Vari-Gone is believed to encourage blood circulation and enhance the appearance of veins while alleviating the congestion of fluid in the legs. Vari-Gone is also thought to be effective for diminishing the prevalence of damaged vessels which can impede circulation.
Vari-Gone Benefits
According to the manufacturers of Vari-Gone, the nutrients in this natural formula work well to improve the overall function, tone, and strength of the veins. Specifically, Vari-Gone is said to increase the levels of conditioning and elasticity of vein walls. Some have also found this treatment for spider and varicose veins to be useful for treating hemorrhoids as well.
Vari-Gone Ingredients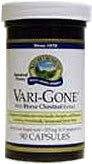 The primary active ingredients in Vari-Gone include horse chestnut, Butchers Broom, flavonoids, and ascorbic acid. Other ingredients include rutin, hesperidin, lemon bioflavonoid, cellulose, silicon dioxide, magnesium stearate, gelatin, and water. Vari-Gone users are advised to take a dosage of one or two capsules twice daily with a meal.
Vari-Gone Side Effects
Side effects associated with Vari-Gone are rare but, as with any dietary supplement, the potential for side effects does exist. With this in mind, consumers should take care when deciding to use Vari-Gone on a long-term basis if side effects are experienced early on. Women who are either pregnant or lactating should confer with their health care professional before taking Vari-Gone.
Does Vari-Gone Work?
Overall, Vari-Gone seems like a nutritional supplement worth trying, especially because it includes horse chestnut, hesperidin, and Butchers Broom. These three herbs are known to effective for fighting varicose veins. The only drawback with Vari-Gone is that it includes some other filler ingredients which may not be necessary and, therefore, dilute the effectiveness of an otherwise potent varicose vein treatment.